General: These RED ROOSTER Air Chain Hoists are especially developed for heavy industrial use. Robust cast steel body.
Valve block is the same for all modells meaning: less spare parts required. Standard with load limiter.

- Optimum control of the load, very precise positioning
- Compact design
- Mechanical endstop system
- Load limiter built-in without loss of headroom
- Cord control or pendant control
- Low noise level
- Air pressure 0,4 - 0,63 MPa (4 - 6,3 Bar)
Optional features:
- Marine Specification/Corrosion resistant
- Paint systems from C2 - Industrial to C5 - Offshore specification (Red finish as standard. Other RAL colours available on request)
- Choice of pendants
- Radio control pendant for electro pneumatic controls
- Control systems
- Chain collectors (PVC, galvanised or stainless steel)
- Various types of hook or clevis available
- Air supply systems and valves
- Piped away exhaust air
- In house design for "specials"
- Festoon systems
- Main air shut off valve
- ATEX - According to EC Directive 94/9/EC (Ex Classification)
Features: Precise variable speed control (cord- and pendant control)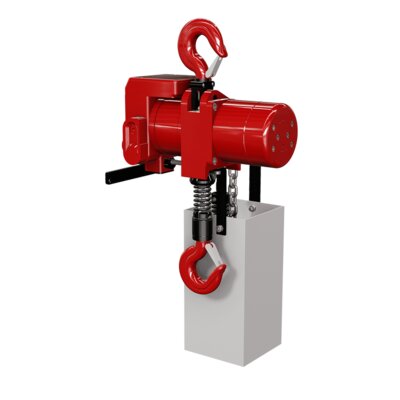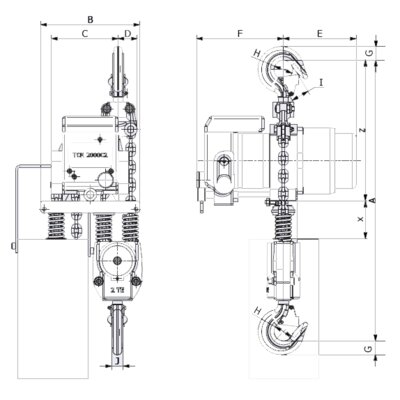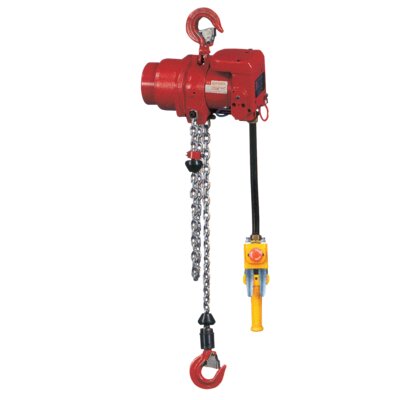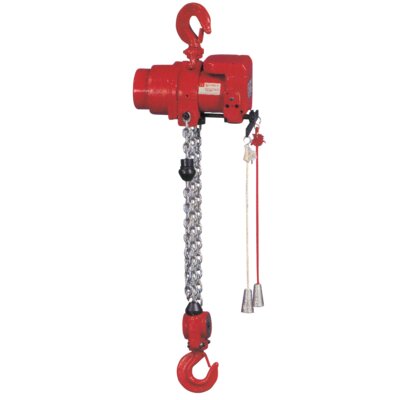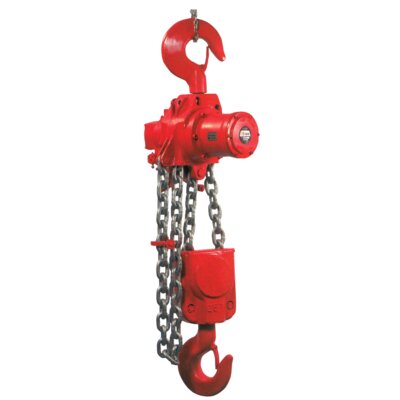 Select a row from the table below, then click the add to quote button
Technical information

| | | | | | | | | | | | | |
| --- | --- | --- | --- | --- | --- | --- | --- | --- | --- | --- | --- | --- |
| Model | A | B | C | D | E | F | G | HØ | I | J | X | Z |
| TCR-1000 | 485 | 212 | 116 | 40 | 156 | 186 | 29 | 40 | 29 | 25 | 100 | 250 |
| TCR-2000 | 580 | 212 | 143 | 50 | 156 | 186 | 37 | 45 | 29 | 30 | 100 | 280 |
| | | | | | | | | | | | | |
| --- | --- | --- | --- | --- | --- | --- | --- | --- | --- | --- | --- | --- |
| Model | A | B | C | D | E | F | G | HØ | I | J | X | Z |
| TCR-3000 | 563 | 212 | 51 | 115 | 156 | 186 | 29 | 40 | 29 | 25 | 100 | 335 |
| TCR-6000 | 690 | 270 | 65 | 185 | 247 | 202 | 49 | 65 | 42 | 42 | 100 | 410 |
| | | | | | | | | | | | | | | | | |
| --- | --- | --- | --- | --- | --- | --- | --- | --- | --- | --- | --- | --- | --- | --- | --- | --- |
| Model | A | B | C | D | E | F | G | HØ | I | J | K | L | M | N | X | Z |
| TCR-9000 | 842 | 378 | 114 | 140 | 247 | 202 | 60 | 75 | 53 | 42 | 370 | 439 | 220 | 240 | 100 | 380 |
| TCR-12000 | 950 | 346 | 118 | 228 | 202 | 247 | 67 | 84 | 58 | 52 | 396 | 493 | 233 | 224 | 100 | 390 |
| TCR-15000 | 950 | 403 | 110 | 293 | 211 | 238 | 67 | 84 | 58 | 52 | 391 | 431 | 230 | 280 | 100 | 390 |